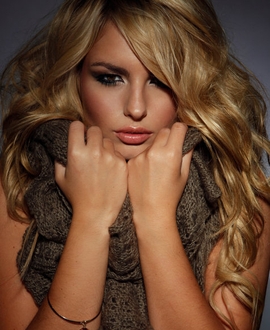 Here, she tells why she's proud of her curves!
Georgina Heffernen: Have you always been plus size?

Louise O'Reilly: Looking back, I would have been yes. I was sick for a period of time and ended up going to a size 22/24. I lost about 7 stone and plummeted down to size 12 and, honestly, it didn't really suit me! Now I'm a healthy, happy 14-16.
GH: How has your size affected your image of yourself?

LOR: It was a bit of a roller coaster in terms of accepting the fact that I was bigger boned and a different shape to other girls during my teenage years. I was surrounded by teen fashion and clothes I just couldn't wear because, at the time, there was a limited selection for bigger sizes on offer. It was tough but it's been such a great learning curve and really helped me establish who I am and what I want to achieve in life.
GH: How did you get into the modelling business?

LOR: It was pure fluke! There was a competition held in 2009 by plus size catalogue Simply Be. When my friend recommended it to me I actually laughed to myself and said "Me? A model?" I ended up applying and too my utter shock - I got to the final 15 out of over 6500 girls. Gok Wan was our judge along with a panel of Irish judges such as Celia Holman Lee and Alan Hughes. The whole experience from start to finish was just fantastic. A week later I ended up signing with an agency here in Dublin and, within the same week, I had my first booking; it all went from there really.
GH: Do you feel that 'plus' modeling is helping to redefine beauty?

LOR: Absolutely! I think the concept of plus size modelling is vital nowadays. It sends out a message to young girls and women that you don't need to be a size 8 to look and feel gorgeous. The most popular size is a 14 both in the UK and Ireland - so it's great to see the appearance of bigger sizes peeping up in places like Brown Thomas where most people would have never even bother about before. Just the other day I found out that top Irish designer Joanne Hynes designs up to a size 16; I thought that was just fantastic!
GH: What tips do you have for my readers who want to live a healthy and balanced life while not being obsessed with the media version of the perfect size?

LOR: For me, my health is my wealth and I really put that forward in everything I do. I usually go to the gym about 2-3 times a week and I really enjoy it. That's the important part, to enjoy what you do. In terms of food, I eat low sugar low salt foods which will really help balance out my energy levels throughout the day and it really helps me especially because I have M.E (chronic fatigue syndrome). I don't see anything wrong with treating yourself just as long as in within reason so you don't get that annoying guilty feeling afterwards!
GH: Who is your role model or hero? Why?

LOR: My grandmother, she was such a determined woman and showed me that nothing is impossible once you put your mind to it. At the age of 65 she travelled all around America on a Greyhound bus by herself, she then found love and remarried at the age of 75 in Saint Patrick's Cathedral in New York. She was so elegant and graceful in everything she did; even at the age of 98 she could still do her makeup to absolute perfection!
GH: What plans do you have for your future?

LOR: At the moment I'm in the process of finishing off my degree in International Relations so haven't thought too far ahead just yet but my motto in life is "What's meant for you, won't pass you by", so I welcome and embrace every opportunity that comes my way.
GH: What would you like women who struggle with their weight to know?

LOR:That there really is more to life than worrying about your weight. You are the one who authors your own happiness and confidence - a measuring tape and a weighing scales can't give you that; trust me! Do not under any circumstances compare weight to that of your friends, family or even celebrities, everyone is a different height, shape and proportion so the most important thing you can be doing is investing that time and head space into something productive for yourself. Your friends and family love you for who you are not your jean size.